Wednesday, October 21, 2020 / by Haley Vail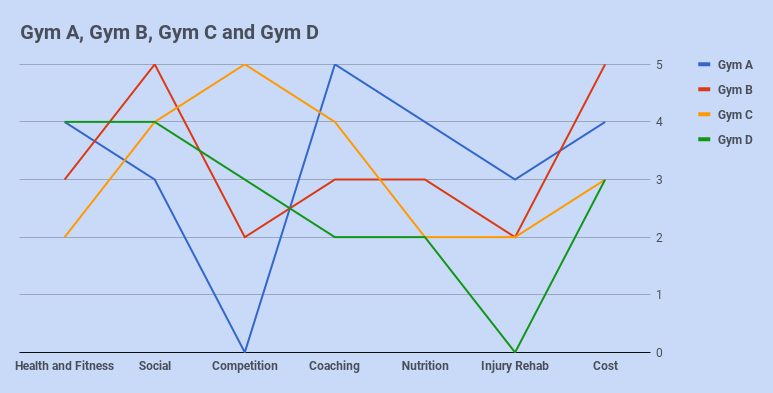 You just moved in and you're ready to find the best gym or trainer in the area….
How exactly do you do that?
Wherever you are, you probably have access to over a dozen gyms. There are hundreds of online programs as well. How do you know which one you'll have the most success at? They all seem to do the same thing. Is there that much of a difference?
Yes, there is a big difference between each gym and program. Just as much as there are many similarities between them.
Think of it like a local bar or hangout that people frequent in their neighborhood. How many bars are within 5 to 10 miles of each other? People still tend to find a favorite one and go there more than any of the others. Why is that?
Humans like connections. When we find a group of people that we feel a connection to, we tend to keep ourselves in that environment. At a bar, it could be a really cool bartender that you've gotten to know, or maybe the other people there are fun and you all enjoy watching the football game together each week. Whatever the reason, you have made a choice to frequent that bar because it matches what you are looking for in your bar time.
Good fitness programs work the same way. They are built on the idea that personal connection is what matters and what keeps people in the program. You get to know the staff and other members. That relationship helps you stay consistent and over time, see progress.
You won't be successful if you pick a program that doesn't fit your personality, goals, ideals, or expectations. In this article, I will attempt to give you a framework in which you can evaluate a program and make a more educated decision on what will work for you.
Each program has the following things they provide services for or focus on and support.
Every program is going to say this is a focus. In many ways, it is the basic goal for each. Are their workouts well rounded? What do they do to prevent injury and prolong training times? How do they approach recovery? Do they have programs that support people from different backgrounds or with different goals? Do they track and use data to verify progress? Do they work to help each person reach their goals?
Every program has some sort of community that keeps people engaged and meets the social needs we all have.
In most gyms, you'll find people that look like they're having fun. If you don't see that, walk out immediately. Gyms that have a higher focus on the social aspects will have a lot of outside the gym events and people talking about things they do together outside the gym.
An online program will have plenty of engagement and communication between everyone that's subscribed to the service. They'll have challenges and the interactions will show the kind of people the program is targeting.
Either way, a program with a strong community has people that support each other and interact in a positive and uplifting atmosphere.
Being competitive with yourself is an inherent part of fitness. So is being competitive with others in an external motivation kind of way. Some programs are more focused on the competitive aspects of fitness and have a higher focus on being at a higher level than everyday fitness requires. These programs are a great fit for people looking for an extra push or former athletes looking to get the edge back.
Not every program will have a solution that provides nutrition education, guidance, and accountability. Some will run nutrition challenges or talk about the need for proper nutrition. This should rate highly on your evaluation. Is there an emphasis on the need for nutrition and a defined program to help in regards to total body health?
Programs with a focus on coaching, have a coaching development program and require more than just the basics in order to ensure that each coach can live up to the values and mission of the business. How much experience do the coaches have? What is the training process? Do they have more than just the bare minimum? Is the mindset of the coaches focused on a long term road to health? Is the program built on coaching involvement or is coaching just a function of the business?
This is a very overlooked aspect. The methods of functional fitness can be applied to anyone, regardless of injury or past experience. The ability of the coaching staff to understand what works best for each person and how to apply various techniques to individual circumstances is where things get tricky. Find out how they deal with injuries. Do they have a plan for how to give someone a good workout and help them improve their fitness even if there is a limitation due to injury? Can they help an injury get better or do they just work around it?
This one is a big one and it's not. Most Functional Fitness style gyms will be more expensive than the average fitness center. You get a program to follow, coaching, community, and a core methodology that has been proven to work, all in one package. The value is there. The difference between most gyms, probably won't be more than $25 to $50 per month. In the big picture, looking at all the other factors I've listed above, cost should be the least important thing you look at.
Online programs range from $7 to $200 a month. The options range from one-on-one coaching, video review, 3-7 workouts delivered to your phone each week, group forums, and even biometric tools during your workouts. The question is what are you looking for and will you use some, a few, or none of the options that come with an online program?
I promise you that if you find a gym or program that fits all the things you are looking for; the cost will be more than worth it. Just using cost as the main factor, and joining a program that doesn't fit your personality, goals, community interests, and overall mindset towards health will be the biggest waste of your money.
How do you rate a program?
I suggest getting a piece of paper and doing some research. Use a scale from 1 to 5 on each character trait. Start tracking where you think each program you're interested in rates. The more time you spend looking into the different gyms the more certain aspects will start to appear and your decision will kind of make itself.
How do you get the information you'll need to answer these questions?
Go through the websites and see what services they have available, pricing, schedule, read testimonials (this is a big one, do the people giving testimonials seem like "your kind of people"?)
Visit their social media sites. Do they seem actively engaged in helping people? Are they helpful? Do their interactions with their followers give you a good feeling?
Read online reviews (Google, Facebook, LinkedIn, Yelp, Website Testimonials). You can tell a lot by how people describe the program and their experience.
If you're looking at a gym, visit and talk to the staff or ownership. Ask questions, watch a class, meet some members.
Find out what the Core Values and Mission of the program are. There must be a core set of values they operate on and a mission that provides guidance for the way it provides services. If this is missing, be careful.
Note:
Very Important. When you talk to the staff, ownership, or whoever is running the online program, remember this, no one can make each of the character traits their top priority. Each person running a program has a natural inclination to focus on one or two of the traits. It is possible to provide a service or offer assistance in each area, but there is no way to make all of them the core value and focus of the program.
It's your job to figure out what is most important to you and pick a program that is the best match.
Creator of the APEX Training System
At almost 50 years old, Bronson has several years of experience in health and fitness. As a Physical Fitness and US Army Combatives instructor and as the owner of a health and fitness studio, He has spent many years helping people improve their health and physical performance.
·
Certified CrossFit Trainer (CF-L3)
·
Certified Personal trainer (NASM)
·
Certified Strength and Conditioning Coach (BPTS)
·
USA Powerlifting Club Coach
·
USA Weightlifting Level 2 Coach
·
CrossFit Kettlebell Trainer
·
Functional Movement Screen Certified
---